Charlie and Travis are back again with Ma, George and their pet wombat, Nugget. For those of you who don't know, like me, wombats are kind of mini-pig/gopher-looking things: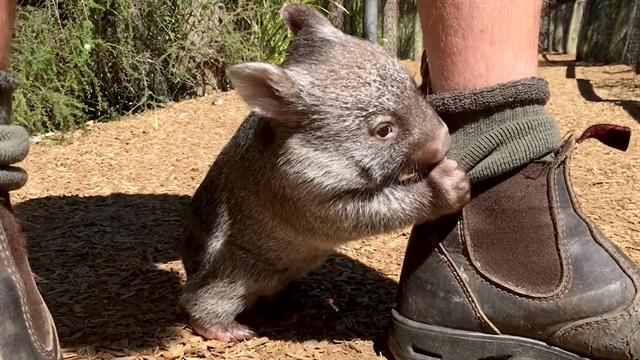 Also, they're illegal to own as pets, so it's a little weird that didn't become an issue in one of the subplots in this book.
Oh, and they have square poop. Why wasn't this brought up? Of all the things Travis doesn't seem to know about, despite growing up on a Texas ranch, that would be the thing that should've caused a comment but didn't.
Anyway, I'm off topic.
This is a culmination of Charlie's part of the story, and it was nice to see him coming fully out of his shell, learning to communicate with those around him and rely on them. He's got a lot on his plate, but he's really settled into his skin and if he had one more challenge to face, it was learning to stand on his own. While Travis might have helped him to open up, he didn't bring out anything in Charlie that wasn't already there. There was a teensy bit of Big Misunderstanding there that felt on the contrived side that I don't think was even necessary to get Charlie to where he ended up, but eh. YMMV.
The family drama was...unexplained to say the least.
(show spoiler)
That part really needed to be more fleshed out. As it stands right now, the answer seems to boil down to "just cuz." Still, it gave Charlie another part of himself to come to terms with and grow from, and that was neat.
This did start off a little slowly, since Charlie had to feed Nugget every other paragraph, which got repetitive fast. It ended strong though, so despite the fact that the editing is actually getting worse with each installment, this one still gets a four-star rating.