This book made me so angry! I wanted to punch a certain someone in the face and now I want - no - NEED - a Mnevermind/Leverage crossover to make things right.
Let's go steal us a mnem!
Okay, now that I got that off my chest, I loved this! It's not quite as good as Forget Me Not, but what can really compare to Elijah's POV? I liked the way the story progressed here. Some things were left (understandably) unresolved, because not everything in life does get resolved. I was bummed though that
(show spoiler)
If this means there's a potential for a fourth book somewhere down the line though, I'd be down with that. :D *hint*hint*nudge*nudge*
It was so gutting to see Daniel go from disillusioned to hopeful, to see Elijah and Big Dan come up with ways to take some of the pressure off Daniel for his dad's persistent mnem, and to see Larry again who is always a hoot and a half, and to see Daniel actually be able to relax for once - only to see it all blow up
(show spoiler)
Once again, if something appears too good to be true, it probably is.
But Daniel takes his lumps and keeps on trucking. He may be more pessimistic than his father, but he got his resilience from his dad, and Elijah's teaching him how to hope again. He has to go through the worst to see what's best. Or as a hobbit near and dear to my heart once realized, "the Shadow was only a small and passing thing: there was light and high beauty for ever beyond its reach." [Excerpt from Return of the King, by J.R.R Tolkien, "The Land of Shadow"] And a life well-lived is the best revenge, and all that.
Though I personally think revenge, in this case, is a dish best served cold. Eliot? What do you think?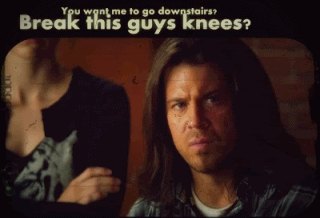 Now THAT would be awesome. ;)
My only wish is for more Daniel/Elijah relationship development. There is some, and what we get is great, but it felt shunted to the side what with everything else going on. This could've been a little longer to give us more cuddle time with these two, and then this would've been perfect.