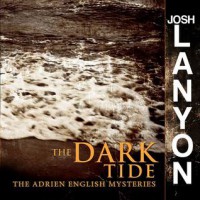 "I want to tell you something," Jake said against my ear. His face was wet.
I nodded.
"I've always been grateful - even when I was married, even when I thought it was over between us - that it was you I fell in love with."
And I've always been grateful that one of my very first forays into M/M was Adrien English, because this series is perfection. It punches you in the heart and fills you up with hope all at the same time. And this ending? This is proof of an author who sat down, planned out the story she wanted to write, and then wrote it. Yes, we keep asking her a thousand times a month to please give us just one more Adrien/Jake book. Yes, we keep nudging her with what ifs in the hopes of getting just a little snippet more, and we comb through her annual Christmas Codas looking for this pairing like a person dying of thirst searches for a trickle of water. Because we're desperate for more, but really, this series doesn't need more. It's complete. It gives us two complex characters, with all their good and bad qualities, all the ways they support and hurt each other, and lets us follow along as they work things out, overcome their obstacles and come out stronger on the other side. It's a fantastic series, as stark and bared to the soul as the characters within it.
Also, it gave us Mr. Tompkins, and who doesn't love Mr. Tompkins. ;)
Narration - As I've been saying, Chris Patton is the perfect voice for Adrien, and his Jake did grow on me, though I'm still not completely satisfied with it. I just wish he had more range for the other characters, because it was hard sometimes to keep track of who was saying what. I wouldn't not get another audiobook by Patton if it's one I really wanted to listen to, but he's not a narrator I'd seek out either.